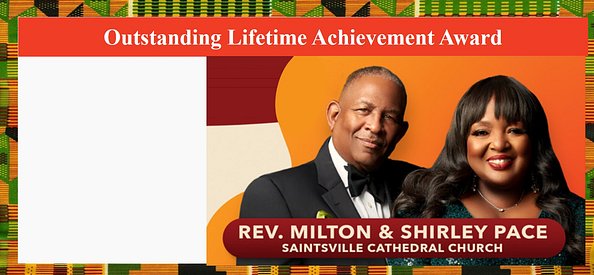 2022 Lifetime Achievement Award
Pastor Milton and Lady Shirley Pace, who began their journey 50 years ago through holy matrimony and known for the musical talents, are the parents of two daughters, one son and a host of grandkids, and are the founders of Saintsville Baptist Church, and through their leadership, church has the grown from a storefront to a $3.5-million-dollar campus, Saintsville Cathedral of Fort Worth, that houses a Children Academy and College Preparatory School, as well as, a Food Program for youth and elderly that feeds approximately 10,000 meals per month.
Pastor Pace is one of the most successful, multi-talented gospel recording artist, musician, song-writer, and he has directed many choirs, including but not limited to the 100 Voice City Wide Children's Choir, 100 Voice Saintsville Academy Choir, and Texas Community Mass Choir, he is a former member of the United Way Impact Council, JPS Hospital Advisory Board, BELA (Black Ecumenical Leadership Alliance), Family Life International Board, and a Connecting Link of the Fort Worth Chapter Links, Inc., and he was inducted into the "Wall of Fame" at the historic I.M. Terrell High School of Fort Worth in 2012.
Shirley Pace is a true renaissance woman who to encourage and inspire woman of all ages; she is co-founder of the Tarrant County Education Foundation, that raised $300K for scholarship opportunities, the current President of The Baptist Ministers Wives and Widows Union of Fort Worth, a member of The Fort Worth Chapter of Links, Incorporated, where she serves as Western Area Chaplain, The Fort Worth Dallas Metroplex Chapter of Chums, Jack & Jill of America Associates Chapter of Fort Worth, The DFW Moles, and the co-founder of The Tarrant County Education Foundation.
The Paces are the founders of Milton & Shirley Pace Concert Ministries, Incorporated, designed to help children develop and showcase their talents in the gospel music genre, the Paces' sold out "PACE FAMILY CONCERT 2010" at Bass Performance Hall, earned them recognition by Fort Worth Star Telegram as Fort Worth's First Gospel Music Couple sensation.
The Tarrant County Black Historical & Genealogical Society presents Milton and Shirley Pace with the 2022 Tarrant County Harambee Festival Outstanding Lifetime Achievement Award for spending decades investing, mentoring, ministering, and sowing into the lives of youth and young adults.
Saturday,October 1,

2022
3:30 p.m. - 5:30 p.m.
William McDonald YMCA
2701 Moresby St.
Fort Worth, Texas
Contact: Deborah Tate-Lewis
deborahlewis@tarrantcountyharambee.com